Christmas Cards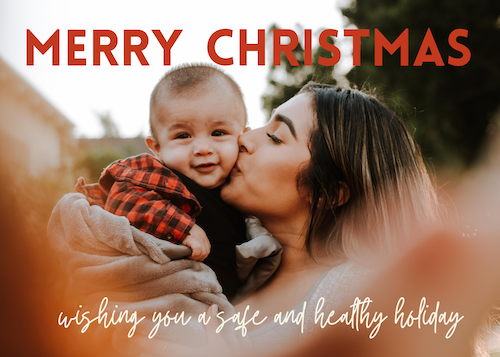 Create a printable card to celebrate the Christmas season.
Customize your Christmas photo cards
Personalized photo Christmas cards are one of the best purchases you can make in December! They will make the holiday season special and add a personal touch to all your holiday cards. By making a personalized Christmas card, you can spread festivity and joy to your loved ones this holiday season.
We remember and celebrate Christmas as the day when receive and give presents, but the most heart-warming gift might just be a card! Stuff your kids' stockings with a photo card from your family vacation, send Grandma and Grandpa a New Year card, or even print one for yourself to remember the magic of the season.
Business Christmas cards are also very popular gift ideas if you haven't already done so, for companies or to offer to colleages. There are many different options for giving cards. You can write your message on the front and choose from the different designs of greeting cards.
How to create your Christmas photo card
When you make a photo Christmas card from Picta Photo, you'll get the quality and craftsmanship of a professionally printed greeting. Your personalized Christmas cards will be printed on premium paper with vivid color to give them lasting value for years to come. Just select your favorite holiday templates or upload your own images and create custom Christmas cards. Picta Photo makes it easy for you to design the perfect photo Christmas cards, including religious Christmas cards, holiday photo cards and more. No matter what type of holiday card you make, we guarantee that every person on your list will love receiving it!
Personalized Christmas card ideas
If this is your first year celebrating the holidays with someone - whether it's friends or family - send them a personalized greeting card with pictures of all of you together throughout the year (i.e., at Thanksgiving, Hanukkah gatherings, birthday parties). Send them something that they can keep forever!
If siblings live far away from each other (i.e., one sibling is in California while another lives in Texas), take some adorable pictures together during the holidays so they can enjoy their time together without having to travel across states!
Get everyone in your family together to pose for some cute photos that show how much fun everyone has when they're all home at once!
Find creative ways to include photos of pets into holiday greetings as well!
Create an online gallery where family members can upload their favorite vacation photos from last year so everyone else can print all their fun memories too!