Birthday Cards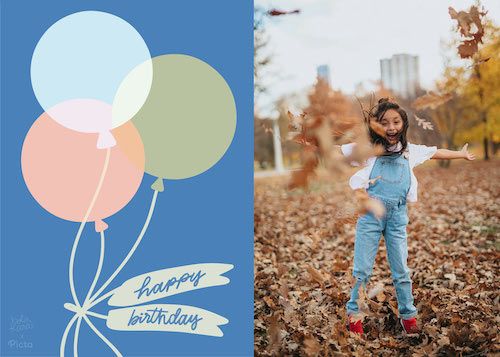 Celebrate a birthday with cards for your friends and family!
A birthday is a special time with lots to celebrate
Get a printable and customized birthday card for a kid or adult in your family for that special day. In less than an hour, your custom photo birthday card with a personal greeting will be ready at your nearest Walgreens or CVS store. This special birthday card can be personalized with your own wording.
Receiving a birthday card is one of the simplest and most enjoyable parts of a birthday. It can be the highlight of the day and a great way to show your loved ones how much they mean to you. Or use the photo card as an invitation to invite all your friends so that they can see your beautiful photos!
Celebrate with custom birthday photo cards
Picta Photo's customized invitations are perfect for birthdays and anniversaries. Choose from designs featuring everyone's favorite family member or friend to create a special invitation that will be treasured for years to come. To really up the ante on your party planning, Picta Photo can also help you send out customized thank you cards after the celebration is over. These thoughtful cards will let everyone know how much you appreciate their time and support. Picta Photo makes creating invitations easier than ever with our simple upload feature which lets you add photos to any card or stationery design in just a few clicks. You can even order printable samples before placing your final order so you have an idea of what to expect when they arrive at your door step. So if there's someone in your life who deserves some recognition on their special day, use Picta Photo to create custom birthday cards and stationery so they know how important they are to you!
Get into the party spirit with photo birthday cards
If you want to keep the birthday celebration going long after the guests have left, create personalized photo birthday cards. These greeting cards allow you to recreate moments from your party and share them with friends and family. With so many ways to create a card, finding the perfect one is easy. Upload a photo of your own and then design it with an elegant border and text that reads, "Happy Birthday." Or, opt for a more casual look by designing it with fun borders and messages like, "Wishing you a happy birthday!" Your photo birthday cards can be customized in minutes! Read our full dedicated messages for birthdays.
A Birthday is a special day
It's time to celebrate the special day of a loved one. Whether you have been friends for years or have just met, a birthday card will remind them of how special they are. Express your love and affection on their birthday with a personalized greeting card from Picta Photo. Our collection of customizable cards offers you an ideal way to express your heartfelt wishes on anyone's birthday, whether that person is your friend, mother, father, sister or brother. Celebrate with one of our many designs featuring spirited phrases and bold graphics. If you want to make someone feel truly special on their big day, get them custom cards from Picta Photo featuring their name or photo in an attractive design that perfectly mirrors the sentiment behind your message.
The perfect picture-perfect card
Give the gift of choice with customized greeting cards from Picta Photo! You can choose any number of designs in order to create a unique and memorable birthday card for every occasion and recipient! If you need help creating the perfect picture-perfect card, we have some tips for writing the perfect birthday message. Choose from our wide selection of designs when it comes to creating meaningful cards with photos such as family portraits, collages, and more! But don't wait until it is too late…you know what they say: "the best things in life are free…or at least inexpensive!" And we offer great deals on all our greeting cards (including this one) throughout the year.